Find out about my moving and inspiring encounter with the passionate Maître sommelier, Catherine Agelasto, who a few years ago made a life-changing career decision and has never looked back. Deciding to pursue her passion for wine, she has since flourished as an expert sommelier. She currently organises wine-tasting courses, private and corporate events, dinners, wine-tasting quizzes, sensory workshops and much more. During the interview, she shares her experiences, her personal development, and what drives her in life.
Could you please share your passion with us?
I am passionate about wine. Wine for me is more than just a beverage. It is a sensory and gastronomic experience that arouses emotions. Truly good wine always makes you feel something; otherwise, it is not that good a wine. For centuries, drinking wine has been part of a social tradition, encompassing both culture and history, as well as a catalyst for bringing people together.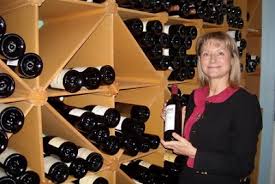 Would you say you fulfil your passion for a living?
Yes, I have been fulfilling my passion for a living since 2002. I used to have a very comfortable job as a marketer for a real estate agency. But it turned out that my passion for wine was stronger than my desire for a very high quality of life, and so I gave up everything in pursuit of it. For me, changing my career path was more than a decision, it was a moment of revelation.
Looking back at it now, I realise that I have always had a strong interest in wine. I used to enjoy having really good wine with my clients. I also participated in wine-tasting sessions at the vineyards in the region of "Beaujolais" in France where I used to live. I remember that I really liked the atmosphere and that it aroused my curiosity and made me want to know more about it. The next step was when I started to look at the different wine bottles in stores for hours on end. I didn't know much about wine at the time, so I bought books to learn more about it.
At this point, I was not really considering working in the wine industry. It was simply a hobby or an interest that I pursued until little by little, it became clear that it was more than just a hobby; it was my destiny. So, I decided to start taking classes at "Union des Oenologues de France" and here I am.
How do you define success and how do you measure up to your own definition of it?
My life-changing decision led me to both personal and professional success. Even if at the time it wasn't easy, it was definitely worth it. In fact, some of my friends tell me I've never looked happier. I feel like I radiate happiness. Thanks to my new career path, I have come to meet some amazing people, including winemakers. It has helped me understand the nature and the intricacies of winemaking, and more importantly it has opened my eyes and mind to many unexplored doors and possibilities.
Take a look at the second part of Catherine Agelasto's Interview.