After partying in Phuket, it was time for a new 24-hour adventure: discovering the Phi Phi Islands.
Leaving our car in Phuket, we took a ferry boat in the early morning of the next day. Our destination: Phi Phi islands. On our way there, we found ourselves awestruck by the breathtaking scenery. The tranquil turquoise waters gracefully surrounded the emerald hills. Meanwhile, the fishermen's colourful boats lent generous splatters of coloured vibrancy, that appeared like sprinkles on the surface of the sea.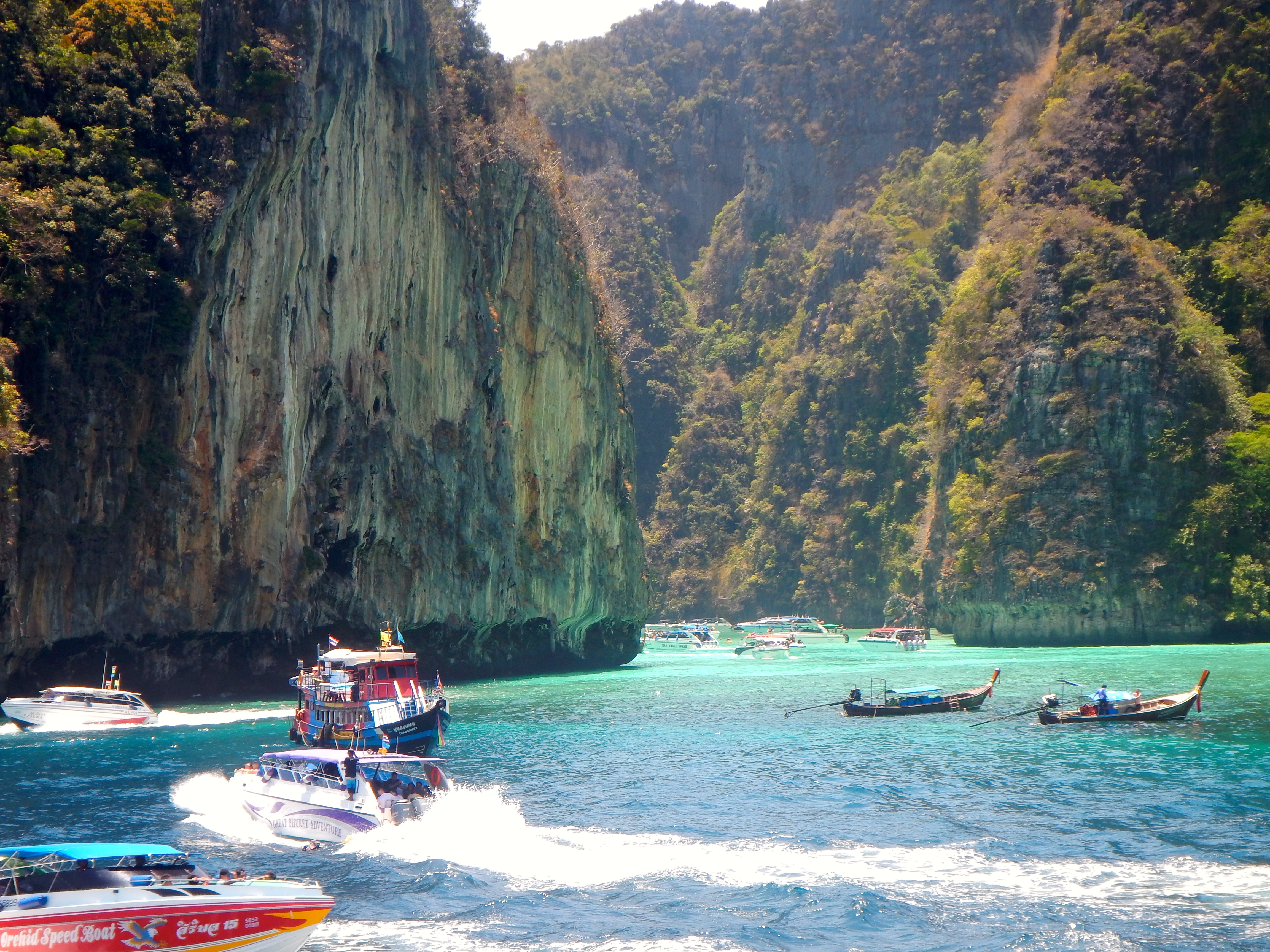 We enjoyed a peaceful tanning session on the top of the ferry's deck.
Halfway through our journey, however, we interrupted our tanning for few minutes of snorkeling. It was surprising to see how the fish had become accustomed to swimming with people. The tiny shiny-scaled community did not shy away from us.
We arrived at our destination shortly after having a buffet lunch on the ferry. It was time to begin the search for accommodation in this new tropical haven.
The first thing that struck me about the Phi Phi Islands was that there were flavours everywhere. There were pots of cool heat-relieving ice-cream, crabsticks sizzling on the grill, spices penetrating the air, noodles swimming in stew, stands of fruits that we had never seen before. The narrow streets were an endless collection of markets that sold everything from food, to clothes, to delicately handcrafted accessories, to useful gadgets. I was also surprised by the fact that there were tattoo parlours every few meters. I can still hear the buzzing sound of the needles penetrating skin.

For the first time in Thailand, we had difficulty find accommodation as almost everything on the island was overbooked and overpriced.
But I guess that is the risk you take when you travel with no plan. After a weary search, we managed to find a bungalow to book for the night. A couple of hours later, we emerged from our bungalow, freshly showered and ready to join in the rhythms of Phi Phi. Given the little we had already seen, it seemed that we were in for an exciting evening.
We boosted our energy levels with a couple of sweet cocktails from the bar in front of our bungalow.
After a five- minute walk, we found ourselves in the heart of the town. Since we had partied a lot in Phuket, we were taking a completely different approach this night. We headed to dinner at an all-you-can-eat grill. The smell of the juicy beef fillets, the tender sausages, and every other kind of meat you can name was exquisite. The meat was served with a side of crispy onion rings, chunky fries and many other scrumptious options from the barbecue. It was delicious, scrumptious, and all-in-all perfection.
After dinner, we went to the bar next door to watch a live Thai Boxing match.
We were accompanied by a Canadian couple who we had met at the restaurant. Watching martial arts in a bar was definitely a first for us. Apart from professional competitors, there was also an offer for a free bucket of drinks for tourists who volunteered to fight, but only if they won. Overall, the matches were very nerve-racking but in an exciting way. The six fights we watched were all so intense and fast-paced that every photograph I attempted to take came out blurry.

Around midnight, we went for a stroll around the delightfully hip and happening pavements for some late night "market window shopping".
We walked around the streets of Phi Phi, enjoying a frozen yogurt, before returning to the bar near our bungalow for some seaside chilling. All we needed were the soft sounds of the waves caressing the shore and each other's company. When your surroundings are so perfect, there isn't really much else you need.
by Daphne Lambi