Brigadeiro is the national truffle of Brazil. Consisting of small balls covered with chocolate sprinkles, the treat is sometimes called "spoon brigadeiro" because it can be eaten straight from the bowl (no eggs!).
The dessert is said to carry a sentimental value for the Brazilian culture. Traditionally, it is eaten on happy occasions, such as birthday parties, baby showers and other celebrations. It is also said that it can help one go through heartbreak, because of the positive emotions associated with it. Happy treat, delicious taste, need we say more? Join us on our quest to make this delightful treat.
What you need to know
Difficulty: Easy
Preparation Time: 45 minutes
Makes: 20 truffles

Ingredients
400g condensed milk
3 tbsp unsweetened cocoa
1 tbsp butter
1 tsp vanilla extract
A few drops of brandy (optional)
Chocolate sprinkles
Method
Whisk condensed milk and unsweetened cocoa until smooth.
Mix in the butter.
Add the vanilla extract and brandy and mix.
Place in a saucepan over medium heat and stir.
Cook until the mixture thickens (approximately 10 minutes).
Leave to cool.
Pour the sprinkles into a bowl.
Once the mixture has cooled mould it into small balls.
Roll each ball into the bowl with the sprinkles to cover it.
Place in the baking cups.
Voilà!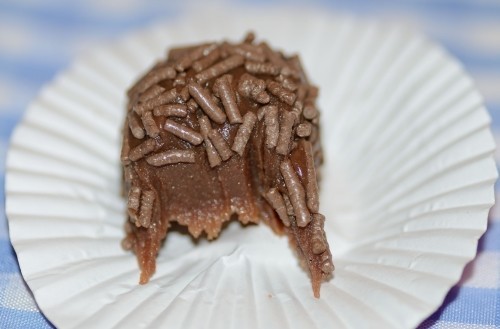 Photo Credits: Easy and Delish