Our day in Bangkok began with two iced coffees, a freshly baked mini croissant, and a petite spinach-filled pastry from the bakery next to our hotel.
It was only 9 am, yet the sun had no intention of showing us mercy. It was already roasting us. Fortunately, the streets of Bangkok were all set to cool us down. It was if the city knew our needs before us. Almost everywhere we looked we could see rows of fruit stands, coconut stands in particular, calling out to us. Using a knife, the stallholders would carve the top of the coconut off, insert a straw in it, and voilà; you were in possession of the most refreshing, summer drink.
After our refreshing beverage, we called for a taxi to start exploring the city.
Riding a taxi in Bangkok is like riding a taxi in any megalopolis: you see and you hear a lot. And with the traffic in this city being so overwhelming, we saw innumerable things. It was as if the city was making our ride as slow as possible so that we got to see every single thing that was going on.
Every avenue held its own mesh of narratives. We could see the gigantic buildings looking down on us, the salespeople re-arranging the display of their stalls to impress passers-by, locals riding on bicycles in their fishermen hats. I stared eagerly out the window, trying to take it all in:  the street cat chasing a female companion, the Toyota Corolla squeezing itself next to a shiny Lamborghini, the teenager pinching the prawn noodles out of the pot using chopsticks. I tried to picture how others saw us. Probably, as a pair of typical tourists gawking outside the taxi's windows, the same way children gawk at their brand new toys.
After forty minutes in the taxi, we decided to be a bit more daring and take a Tuk Tuk for the rest of our journey.
A Tuk Tuk is a three-wheeled taxi; it resembles a coach, the only difference being that it is drawn by a motorised vehicle instead of a horse. When you are in a Tuk Tuk you do not just ride the streets of a city; you feel them. You experience every turn, every road hump, every roundabout, five times more intensely. After ten minutes of our bumpy Tuk Tuk journey, we spotted an intriguing rooftop nearby and we asked the driver to drop us off there.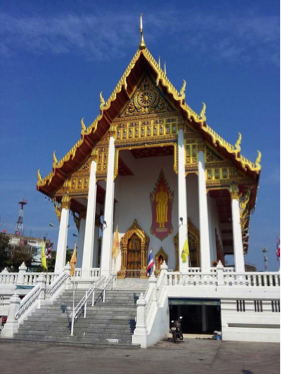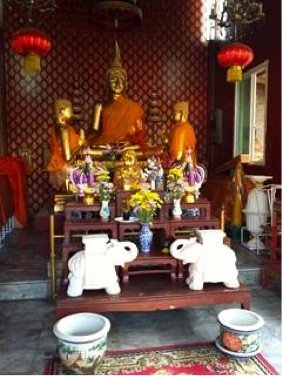 It was a Buddhist temple, and it was magnificent.
I had never been to a Buddhist temple before, and I found the sight stunning: the golden sunlit touches lurking here and there joined at the top of the temple to make it sparkle, while the beautifully sculptured rooftop lent the temple a majestic look.
In spite of all the architecture of the temple being gloriously grand, the temple itself was humbling. It emitted tranquillity and serenity. Following the advice of one of the monks, before leaving this peaceful sight, we made sure to strike the gong three times for luck.
Since we were in a hurry to see everything, we skipped lunch and took a taxi-boat towards the city centre.
During that ride, my thoughts went back to Bangkok being a city of contrasts. After our visit to the impressive temple, we found ourselves in a taxi-boat that was floating on some very filthy waters, surrounded by neighbourhoods plagued by poverty. There was no proper housing; even a small earthquake would be enough to shatter those poorly constructed shelters.
Yet, half an hour later it was as if we had entered a completely different world. We got off the boat, climbed some stairs, and found ourselves in front of a highly modern and luxurious shopping street.


It was starting to get dark, but the darker the sky got, the more city lights popped up.
If anything, Bangkok seemed to be getting livelier and brighter as the day drew towards its end. Since we had skipped lunch, we decided to have an early dinner. We chose a rainforest-themed restaurant with live music. It was our first real meal of the day and so we treated our hungry stomachs to two very exotic dishes: rice and cashew nuts served together in a pineapple, and a coconut stuffed with seafood that was soaked in coconut milk. A treat indeed!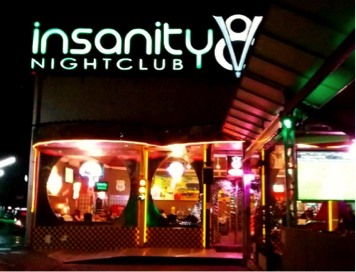 After filling our batteries with this exquisite meal, we headed to a nightclub called "Insanity" that was recommended to us by locals.
Walking into a club in casual clothes and trainers, without getting snobbish looks from the bouncers, was a first. People evidently did not care about what we were wearing. For once, I was able to dance my heart out, without worrying about blisters from my high heels. After many hours of dancing, the day of running up and down the streets of this vast city started to take its toll on us. We decided to call it a day.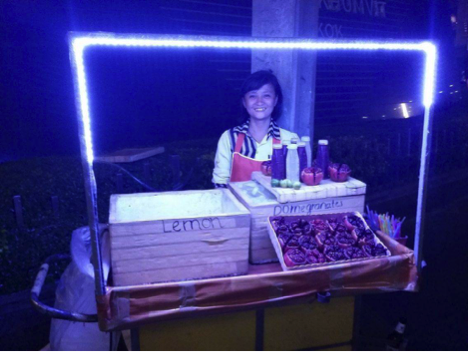 Leaving the club, we passed by a woman selling juices and pomegranates.
It was not something one expected to see at 3 in the morning. Further on, we saw more fruit stalls and night markets. The city streets seemed oblivious to the fact that it was so late, and went on with its business as normal. Perhaps we were the odd ones out for going to bed so early. But we had an early start the next day and six more days to explore Thailand. We did not want to miss out on any of it.

So we took one last Bangkok-By-Night Selfie and headed to bed.
by Daphne Lambi