My adventures in Kerala started with me visiting an Ayurveda Center, where I underwent a detoxifying journey by doing the five steps Panchakarma. My stay in the Ayurveda Centre was definitely life-changing, as it opened my eyes to an entirely new philosophy and way of life.
During my time at the centre, residents and employees were always talking about the Hindu spiritual leader, Mata Amritanandamay Devi, otherwise known as Amma or Mother. She is the guru of Amritapuri Ashram and is conceived as a Saint by her followers. I was very curious to know more about this intriguing woman nd started asking around to find out as much as I could about her. My masseuse, who was one of her devoted followers, was happy to share everything she knew. She explained to me that, in her belief system, Amma strongly underlines the importance of meditation, karma, yoga, and selfless service. She shared with me some of the Guru's values, such as selfless love, compassion, patience, forgiveness and self-control. During my conversation with the masseuse, I learned that Amma also works on charity projects that are intended to provide food, housing, education, and medical services to the poor. By the end of the conversation, my masseuse was telling me all about Darshana, a ceremony during which Amma hugs people and gives them her blessing.
As someone who was brought up in a Western country, finding out about the Guru's life and philosophy was truly fascinating to me. Soon after my conversation, I found out that Amma frequently travels to meet followers from all around the world. Fortunately, she was not travelling at the moment but was at her Ashram, which, located in the Kollam district, was only three hours away from me! As soon as I found that out, I decided that the next stop of my journey would be Amritapuri Ashram. I just had to meet her!
After my detoxifying retreat at the Ayurveda Centre, I felt balanced, re- invigorated and most importantly, ready to carry on with my adventure. On the day of my departure, a car was waiting for me at the entrance of the Ayurveda Centre to take me to the Ashram. I had never been to an Ashram before and was really excited to take in this new experience. On my way to Kollam, I had the pleasure of enjoying the breathtaking view of the tropical landscape and giant palm trees. My pleasure was slightly clouded by the fact that I was suffering from travel sickness. As you might already know, driving in India is absolutely chaotic. There are no rules, and drivers simply honk whenever they want to pass you or cross lanes. After more than three long hours of driving, we finally arrived at our destination. My very first impression of the Ashram was that it was the most peaceful place I had never been to.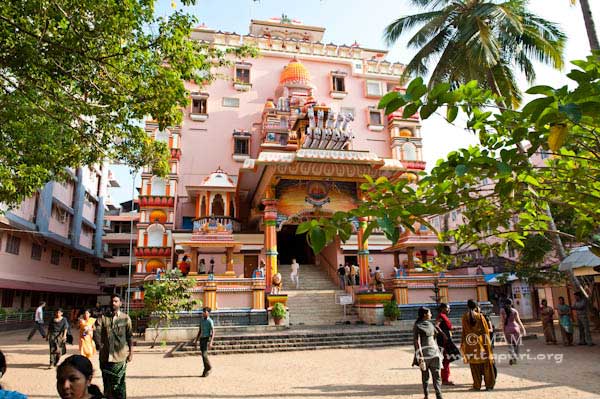 Stay tuned to find out about my experience at the Ashram next week…