Whether it's for Valentines Day or the Carnival Season, there's plenty of reasons to go travelling in February! And don't worry, you don't have to jet off to the Caribbean to be warm during your mid-term break. There's plenty of ways to turn the heat up in Europe. Check out our pick of the top 3 European destinations for February and spice up your life with a lively trip.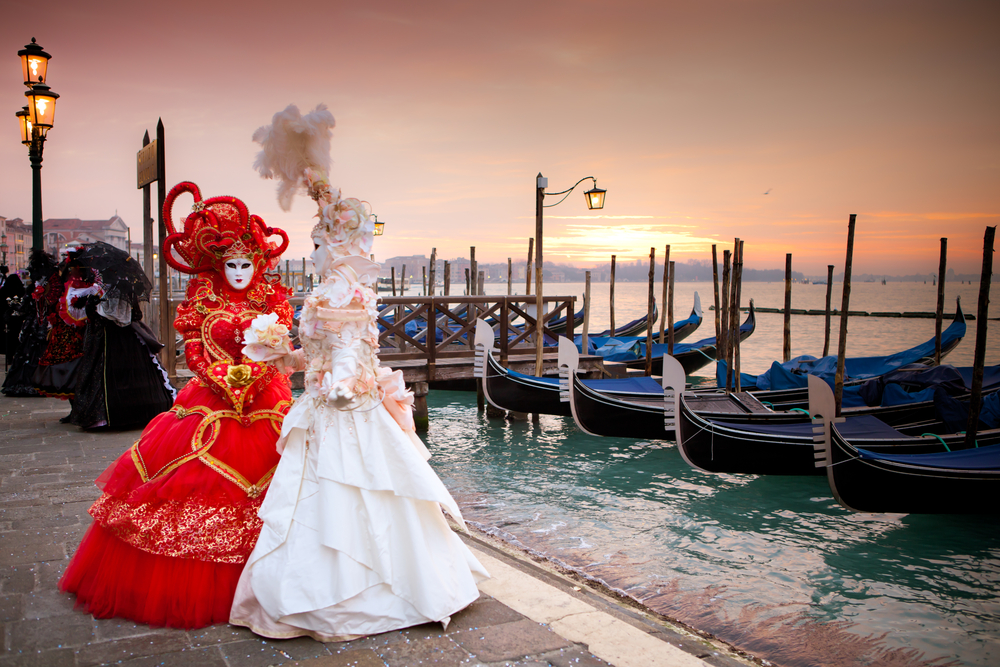 Venice, Italy
Venice is the ultimate February destination. It's got romance, it's got a carnival, and, most importantly, it's Venice! Travel to the floating city to explore the beautiful canals, marvel at the historic architecture and treat yourself to some gelato (if it's not too cold).
See three of Venice's most impressive sights St Mark's basilica, Doge's Palace and the Clock Tower gathered around the San Marco Piazza. Going on a gondola is a must, as is discovering Venice's vibrant art scene. If you're a foodie, treat yourself to a giant meringue at Bar Pasticceria Ballarin and book yourself an authentic Venetian wine-tasting.
Last but not least, don't forget the carnival! The renowned Venitian Carnival will take place between the 11-28th of February. See the streets of Venice fill up with street performers, musicians, masked party-goers. It definitely is a sight to behold! The celebrations begin at the San Marco Piazza while most key events take place at the Arsenale, the city's historic shipyard. If you think Venice looks magical all-year round wait until you see it under the ethereal light of the carnival!

2.  Andalucía, Spain
As one of Spain's best-kept secrets, Andalucía is guaranteed to keep your blood warm in the cold of winter. The southernmost part of Spain is not only warmer in temperature but also in spirits! Head to Andalucía's most beautiful provinces Granada and Seville to delve in the essence of Southern Spain. With the scent of orange blossoms in the air, the vibrant rhythms of the flamenco in the backdrop, and a peculiarly rich history that shows in the architecture, Andalucía will make you feel like spring came early this year.
Explore the cobbled streets of the old town of Seville and be sure to stop by the Alcázar Palace. For lunch, try out one of Seville's renowned tapas bars and do not miss out on going to a flamenco peña (club) for an unforgettable night out! If you do find yourself in Andalucía this February, a stop by Granada is a must. This Spanish city is uniquely historic and youthful at the same time. Do not miss out on exploring the Alhambra, the renowned palace-fortress and Andalucía's most impressive historical site. The vibrant city becomes even more lively during the last week of February when the carnival celebrations begin. Whether you're going for a romantic trip or a carnivalesque escapade, Andalucía will surely sweep you off your feet!
 
3. St. Valentin, France
You might be surprised to hear that the most romantic place in France for Valentine's day is not Paris but the tiny village of St. Valentin. Located in the centre of Val de Loire, this village calls itself the "village of love" and goes all out on Valentine's day to prove it.
Valentine's day is celebrated as a three-day event during which the usually quiet village comes to life. Delicious breakfast, ballroom dancing and concerts are just some of the options loved up couples can choose from. Meanwhile, the entire village is decked out with roses and other flowers, while couples can commemorate their love on the tree of eternal hearts.
If you find yourself maxed out on romance, you could always go on a road trip to discover the rest of Val de Loire. There are many outstanding castles to explore such as the Château de Chambord or the Château de Villandry. Wine-tasting tours in Val de Loire are also a must!