"You are really Greek?" the waiter asked for the third time.
"Haha, yes, I am from Greece."
"Mais, c'st incroyable. I thought you were a beautiful French couple."
"Well, he is French", I said nodding towards Louis. "But I'm from Greece."
"But you live here? With him?"
"I actually just moved here a couple of months ago. And no, I am definitely not living with him", I giggled.
"Incroyable", he repeated.
That was the first sign that I was finally fitting in.
Still, I didn't want to fit in too much. After our delicious three-course meal of walnut and cheese salad, followed by coq au vin and a chocolate soufflé, I decided to take action.
"Right", I told Louis. I've tried nearly all of your cheeses, your coq au vins, and your delicious deserts. Tomorrow night we are having a taste of Greece.
"You are taking me to Greece?" Louis asked amused.
"Even better", I smiled, "Greece will come to us."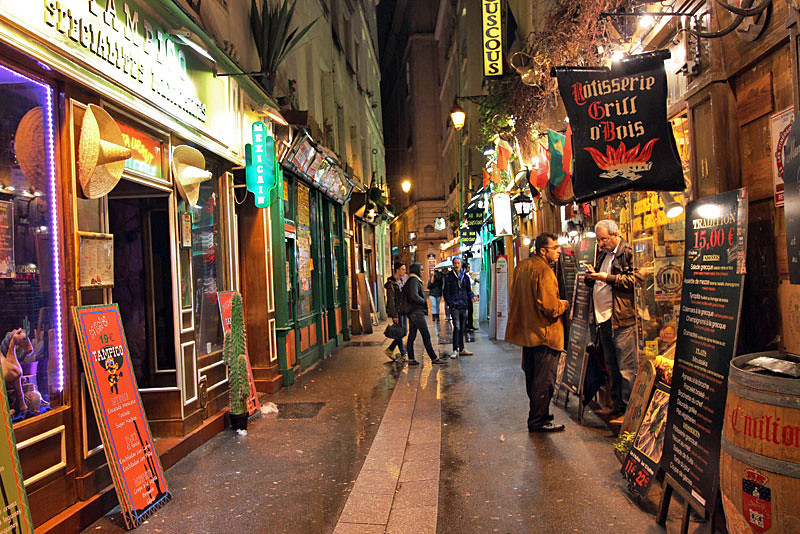 The following night, I took Louis to the Latin Quarter.
I'd never been there myself, but I'd heard enough to know that that was the closest to "Greekness" I would get in Paris. On our way there, we took a left on rue Soufflot and found ourselves in front of the Pantheon. I explained that "Pantheon" in Greek means "to all the Gods". I told Louis that the name was meant as a tribute to all the French "Gods" of literature and the arts who were buried there.
"I've lived in Paris all my life and did not that until now", Louis exclaimed.
Our next stop was rue de la Hachette. I'd heard that this road was crowded with "wannabe" Greek restaurants and was eager to check them out. Entering the street, Louis and I were greeted by an overt show of "Greekness". Men were standing at the entrance of restaurants, throwing roses, and shouting "OPA". Inside, you could hear the signature sound of the Greek mandolin, and once in a while, you could hear a plate smashing. It was evidently all for show, as it was too early into the night for a "plate-smashing" party to be taking place inside the restaurant.
"So, this is what you do in Greece?" Louis asked jokingly. "Make a mess for no reason?"
"Oh there is a reason all right, it's called living. You should try it sometime."
"Break a plate on purpose?"
"There's always a first time."
Louis went on to break his first plate that night, say his first "OPA" and, eat his first Greek mezze.
Leaving the Latin Quarter, we went to a restaurant that boasted the best Greek mezze in town. The dishes came non-stop, the dolmadakia, the mousakas, the loukoumades at the end… You know you are having Greek food when your clothes suddenly start feeling too tight. As the night progressed, the music got steadily louder and the place got busier. By 11 p.m. when everyone was done eating, the tables were pushed back to make a way for a dance stage in the middle. Having had one too many ouzo shots, Louis and I joined in the centre to dance Zorba with everyone else. Louis picked up the steps surprisingly easily, and by the end of the dance, he could almost dance it better than me.
"You are a true Greek, now", I laughed. Louis took a plate from one of the tables and smashed it.
"Now, I am." His smash started something and soon people all over the restaurants were smashing plates at the feet of the dancers, who were now dancing Zembekiko. Exhausted for all the dancing, Louis and I took a seat and proceeded to occasionally throw napkins or rose petals in the air, from the bowl on our table.
"So," Louis asked, "was this the real taste of Greece?" I thought for a moment. The food was okay-ish, the atmosphere was lively, the music was great.
"I guess it was a good enough taste. But, not the real thing, no. For that, we will need to go to Athens."
On the way home I got to thinking about "the real thing".
We had just had a taste of Greece in France. If it is not the place, then what is it that makes up the real thing? If it's the people, then how come someone can mistake a Greek for French person?
When I told Louis what I was thinking he said:
"Oh, but it is not because you looked French that the waiter made a mistake. It's because you looked like you belonged."
Belonging, that was it. That tiny bit of Greece did not belong in Paris. That is why it did not feel quite real. But I did feel like I belonged in Paris. Maybe I wasn't a "real" Parisian yet, but I was not an still an expat either.
by Elena S.